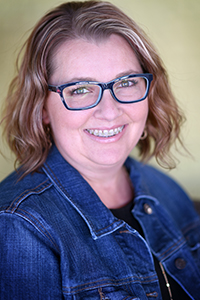 Emily Haynes Thomas, LMFT
Emily Thomas, LMFT, is an insightful therapist and team leader who serves as the Associate Clinical Director at Youth Care. Her 17 years of experience includes both clinical and administrative work. Emily began her career by working with boys within the juvenile justice system where she did conduct disorder and attachment-related work, eventually becoming the clinical lead over the unit.  Over the course of her career, she went on to work in wilderness treatment programs, eating disorder clinics, and creating an intensive in-patient program for active duty service members and veterans suffering from PTSD and substance abuse. Emily's passion for working with adolescents and their families brought her to Youth Care in 2004 where she specializes in working with complex families, trauma, emerging personality disordered teens and treating attachment wounds.
"Ultimately, I love what I do…at work and at home. Working with people I love and care about is the only way I can think of to spend my days. Although we treat tough kiddos, I love them all and always work my hardest to help them and their families to be successful when students return home. When I was in graduate school, I said, 'I'll never work with adolescents.' I've now worked with adolescents for 15 of my 17 years in residential treatment and I'll never give them up!"
Emily is a systems-oriented therapist who believes in the power of systemic context. She utilizes DBT, experiential interventions, CBT, sand tray and process work in her therapy. Clients and colleagues alike have recognized her for her skill with family sculpting and group therapy.  Colleagues describe her as far more than a supervisor alone, "she is a mentor."
Emily earned her undergraduate degree from Utah State University and went on to graduate with her master's degree from the University of Maryland. She is an experienced and certified AAMFT supervisor and has been trained in multiple family systems theories, DBT, CBT, and sand tray therapy and has presented in both local and national conferences on mental health-related issues.
When not at work Emily can be found spending time with her blended family. "Maybe a strange thing about our family is that we are good friends with my ex-husband and his family. We have made a concerted effort to get along. Maybe someday my daughter's step-Mom and I will write a book!" She, her husband, stepdaughter, stepson, and daughter love to take the camper to the mountains or the lake. Four-wheeling, kayaking, and sitting by the fire are their favorite activities.