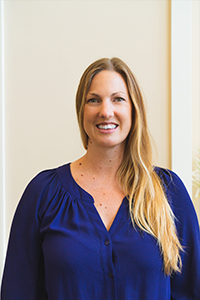 Maggie Fritzges, LCMHC
Maggie Fritzges, ACMHC, is an outgoing therapist who has worked as a field staff member with a wilderness program as well as in a stabilizing hospital environment, focusing on placing adolescents going through crises in an appropriate care.  These areas built a great foundation for her work at Youth Care.  Maggie enjoys working with teens living with depression, anxiety, autism spectrum disorders and addiction.
"Working with adolescents has been the most challenging and rewarding piece of my life. I never knew I wanted to work with this population until I took in a job in wilderness therapy. I took the job for selfish reasons, because I love the outdoors, and then quickly became fascinated with the amount of strength and resilience that I saw in each of the kids I worked with. Even more impressive was watching an initially resistant teen really start to embrace their treatment and grow as a person. Being a part of that journey is such an incredible privilege that I'm constantly humbled by. Teenagers are stronger than they realize and the moment they do is my most favorite part of the job."
Maggie takes a collaborative approach to treatment.  She is skilled at building rapport and trust with clients, including those who are treatment resistant. She teaches and helps clients implement DBT skills while helping them to understand how they can globalize those skills to life after treatment. In addition to being a strong DBT therapist, she utilizes motivational interviewing, CBT, psych-education, and experiential interventions.
Maggie is a Virginia Tech graduate, earning her bachelor's degree in psychology before going on to graduate school at the University of Utah. She graduated with a master's degree in educational psychology. She is known for her ability to teach skills to her clients and infuse humor in therapy.
When not at work, Maggie loves to be outside. She enjoys hiking, camping, paddle boarding, snowboarding and having adventures with her hound dog Virginia. Maggie's hobbies also include singing, cooking, and reading. She is a consummate Virginia Tech and Washington Redskins fan after growing up watching football with her dad on weekends. Lastly, Maggie is an eager traveler and globetrotter who recently spent a month in Southeast Asia.